Sea turtles have lived in the world's oceans for more than 150 million years. Sadly these ancient reptiles are now globally threatened with extinction. The turtle populations are gradually declining as a result of persistent hunting, exploitation of the eggs, increasing coastal development, incidental capture in fisheries, the degradation and destruction of nesting beaches, and marine pollution.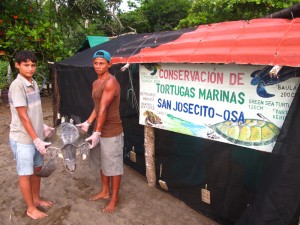 The C.C.B.D. first established its turtle conservation efforts on playa Rincon de San Josecito, Osa Peninsula in 2004. Going into our 9th turtle season we are quite aware of the danger that faces the sea turtles and recognize that now more than ever, we need to raise awareness and increase our conservation efforts.
"Rincón de San Josecito"  is a beach about a kilometer long, located in the northern part of the Osa Peninsula, on the Pacific coast of Costa Rica. On this beach, we have registered three species of sea turtles nesting; in decreasing order of abundance are the Olive Ridley (Lepidochelys olivacea), Green turtle (Chelonia mydas) and Hawksbill turtle (Eretmochelys imbrincata). There is evidence in the local community who speak of sightings of the Leatherback (Dermochelys coriacea), although there are no recorded sightings of this species since the inception of our project 9 years ago.
The main objectives of this conservation project are:
The development of a nursery for the protection of the eggs collected following a management plan according to SINAC.
Night patrols to find nesting females and collect the
Take biometric data of nesting females, proceed to the marking, information of the nests, care and control of the nursery, hatching and exhumations  of nests.
Raise the environmental awareness of the local community, for solidarity with the project and the current status of sea turtles.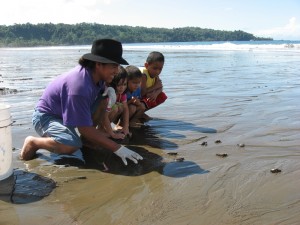 Since our first year we have safely protected hundreds of nests and thousands of eggs. With the help of our donations and the hard work of our volunteers, we hope to continue this project indefinitely,  to secure a reliable source of funding, and ultimately expand our conservation efforts to other local and threatened beaches.
Please use the menu to the right to find links to previous year data reports, access to free downloadable photos and videos, turtle statistics and facts, volunteer and donation information, and ways you can help by spreading awareness and education.
If you have any questions or comments please contact us using our contact form or email us directly at info@4biodiversity.org